True Story... Now With Pictures!
Kim Glover saw my last blog entry and made a couple corrections to it. The eggshells were contrasted with a giant chain -- each link weighed more than twenty pounds -- which was made out of ceramic. The dust was from shattered links of the chain that was spread around the eggshells. Here's what she said in the comments to the first post: "The eggshells were not gold dusted and the chain was ceramic (broken in pieces all over the floor as well). The chain was all cleaned up too except for three unbroken pieces. The shells were saved for 3 months by 2 local coffee shops. Everyday my bathtub and sink soaked the eggs and everynight they covered a good portion of my basement floor until they dried. The bases of the show was about removal and fragile detaching and destruction. It had to do with recontextualizing and making use of the unused. The people were to take part and well, it just didn't happen. The gallery did have my collage work up on the walls but it felt so empty without the shells and large portion of the chain fragments. We will be doing the installation again in about 3 or 4 months. Thanks for reading!"

While she doesn't have any pictures of the final project, because she was waiting for people to show up to take pictures then, she did send me a few of the project while she was setting it up.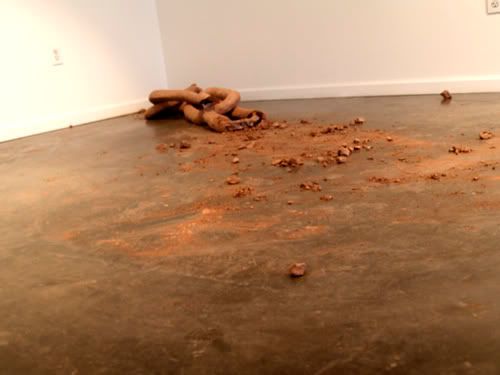 These are actually all of her course assignments, reduced to ashes....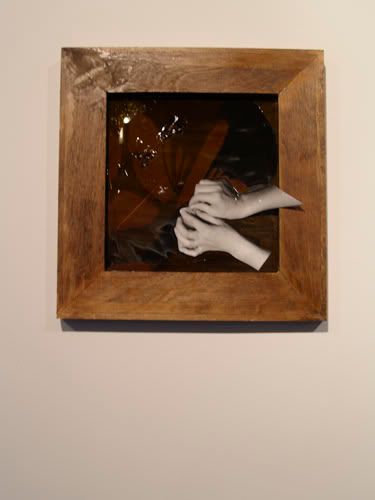 And if you look in the window glass in this one, you can see the reflections of the art hanging on the walls.
Comments {8}